Paper Mario: The Origami King- Nintendo switch
Now that the school vacations have begun, Nintendo Switch comes out with a new game: Paper Mario: The Origami King. In this game you go with Mario and Olivia on a comic adventure that takes you to all corners of a paper world! In addition to a review, also a super fun giveaway package!
A real vacation game
If the weather is bad one day during the vacations, the Nintendo Switch is quite nice to have in the house. Children can do different games, alone or together. Nintendo Switch came out with another really fun new game last week 'Paper Mario: The Origami King!' And I get to give away two giveaway packages themed to the game, including an origami folding set full of familiar characters from the Mario world.
Read more about this at the end of this review!
What the game is about?
When King Olly moves Princess Peach's castle and threatens to fold up the entire world, Mario must use his mighty paper techniques to crumple those plans. To untie some huge paper ribbons from the castle, Mario travels through vast regions full of surprises – from raging rivers to an ancient ruin, a house full of ninjas and a vibrant oasis in the desert.
New battles that require insight and thinking
Paper Mario: The Origami King features new ring-based battles that require both strategic insight and quick thinking. In doing so, the trick is always to form rows and groups of enemies and hit them extra hard with well-timed attacks. Sometimes it's best to use Mario's boots for that, other times his hammer is more effective, or it's better to use an object to heal Mario or hit the enemies.
Exploring
When Mario is not in battle, he can investigate suspicious spots to find hidden objects, scatter scraps over cracks to close them, discover Toads hidden in environments, play mini-games to earn in-game rewards, and enjoy a surfeit of treasures and secrets.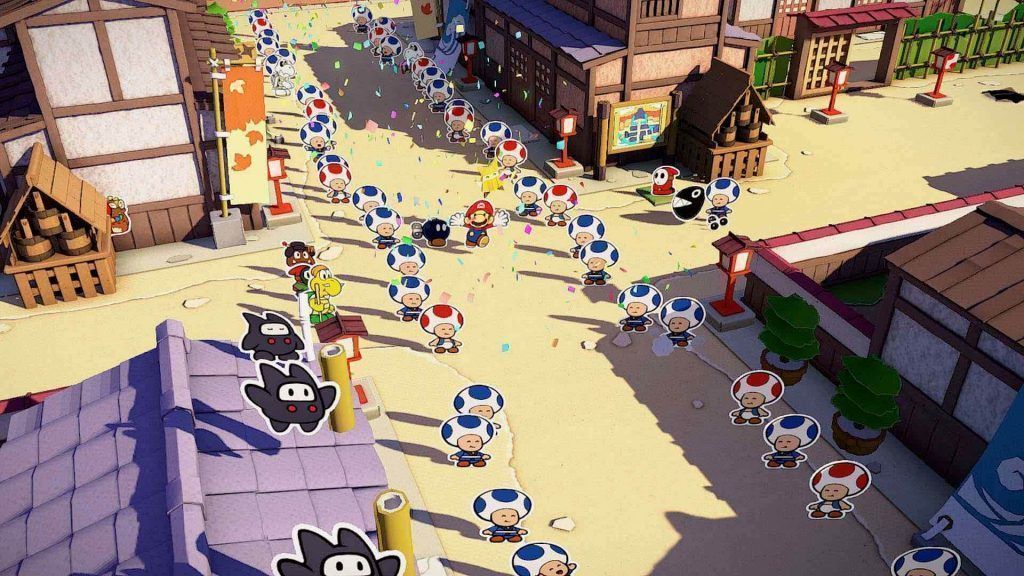 Everything in Paper Mario: The Origami King is made of paper
Everything in Paper Mario: The Origami King is made of paper. Characters are flat and move through a 3D world also constructed entirely of virtual paper and cardboard.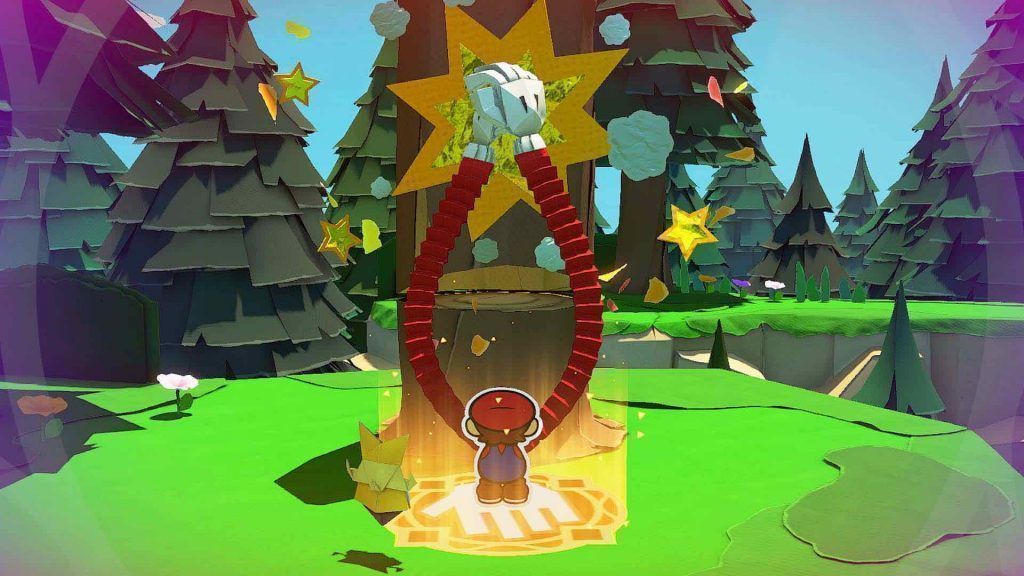 Solve the puzzles
During the adventure you pass different colored ribbons, which must be destroyed at the end of each level. Only then can you enter the castle. Environments you may recognize from Mario games. You have to solve puzzles, collect things and unravel secrets.
With the coins you earn you can buy weapon or accessories.
A sweet and fun game for the Nintendo Switch
I play with the boys on the Nintendo Switch. The oldest, like me, plays a lot of Animal Crossing New Horizons and the youngest likes to play Yoshi's Crafted World. Paper Mario: The Origami King is a bit like this.
The game is beautifully made, the dolls are folded origami characters and you walk on a surface of crepe paper and confetti.
The beginning of the game
The story is explained in the beginning and then you go out with Mario. Immediately you get totally sucked into the story and start searching, for doors, for solutions, how to proceed, where to go. Watch out for that hole! Get the hole fixed and in the meantime grab the coins you find.
In between, you engage in battles based on rings, which really requires some technique and tactics, but that you learn along the way. The game is discovery, trial and error and once you have passed a level you move on to the next level.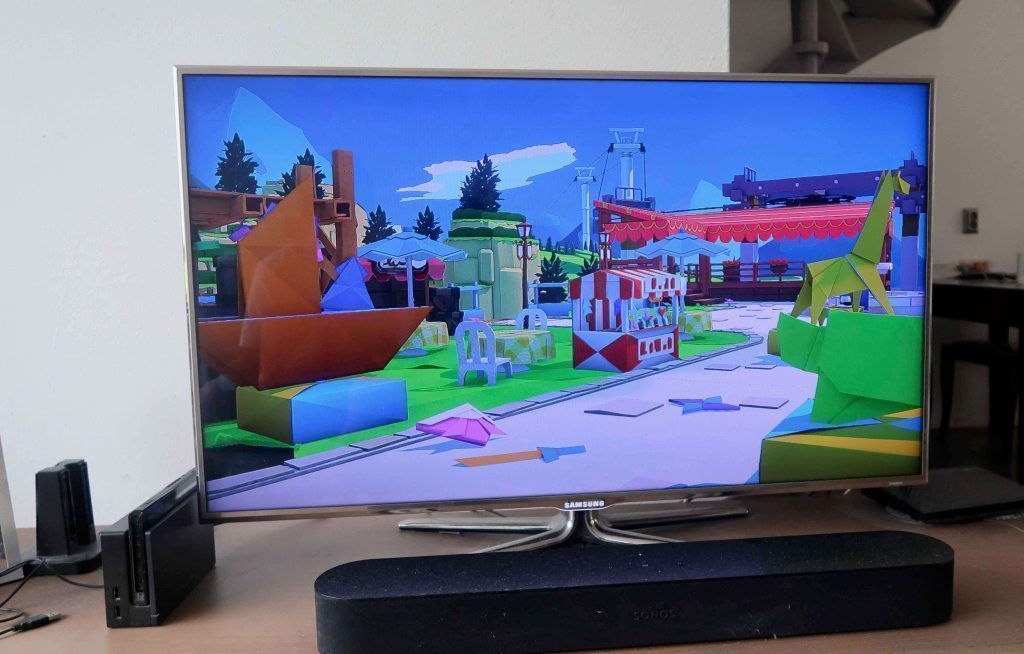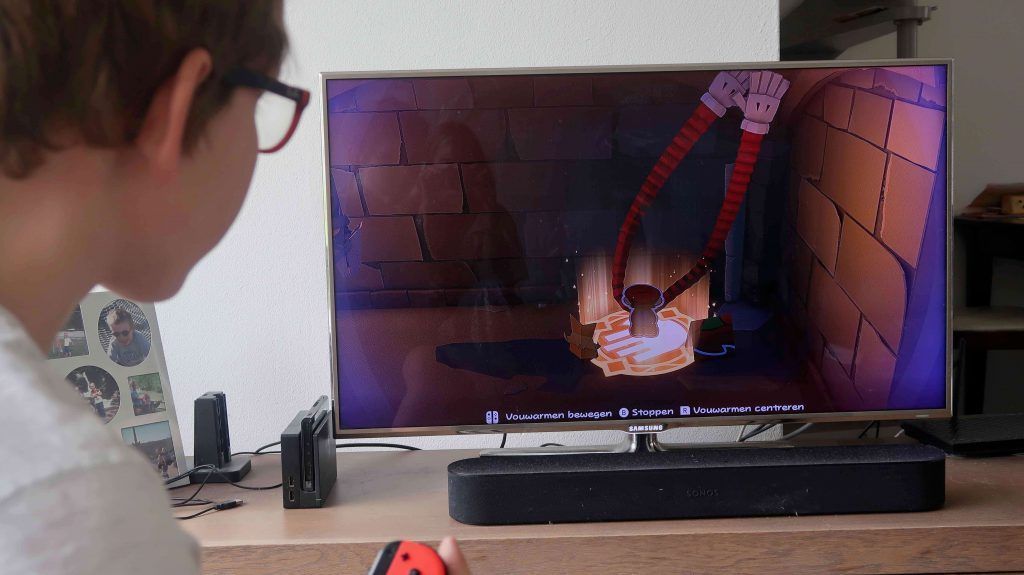 Nintendo eShop's wish list feature
Paper Mario: The Origami King is now available exclusively for the Nintendo Switch and available for purchase on Nintendo eShop. With so many titles already available for the Nintendo Switch, Nintendo eShop's wish list feature is a handy way to keep track of things. To make this even easier, you can now also view, manage and add to your Nintendo Switch wish list via Nintendo's official website.
On the Nintendo Switch wish list-website you can read more about it!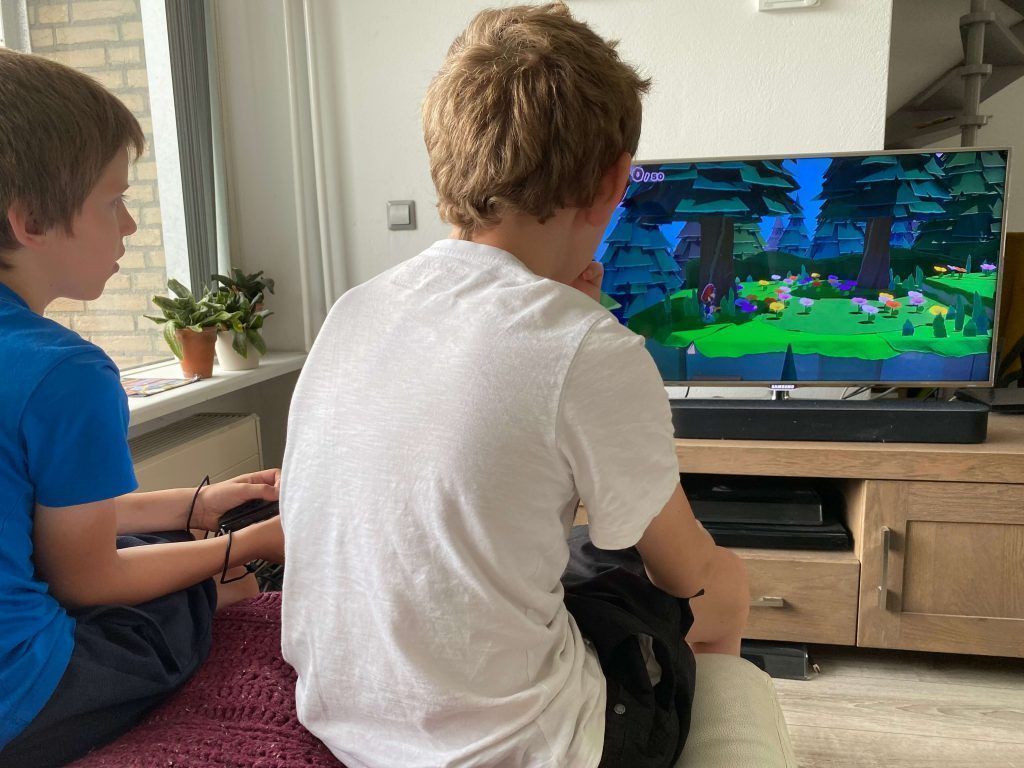 Another super fun game
With Paper Mario: The origami king, Nintendo Switch provides another super fun game for young and old alike. The game is so much fun because you have to keep exploring, puzzling, searching and finding to move forward. The origami characters again give a whole new dimension to the game and the game contains fun wordplay and comical actions.
GIVE AWAY
From Nintendo, I get to give away two giveaway packages in theme of the game, including an origami folding set full of famous characters from the Mario world. What to do to win: