Play-in Utrecht- The indoor entertainment park for young and old
While the kids somersault's in the trampoline park, parents can't believe their luck in the Arcade Hall. Come play a VR game with the family and complete a mission in the Escaperoom. In the indoor entertainment park Play-in in Utrecht, not only young children can have fun, also for teenagers, adults, company parties or family outings Play-in 'the place to be!'
Kids Paradise for younger children
Play-in Utrecht, find yourself at The Wall on the A2. It is an ideal location because it is easily accessible and there are lots of parking spaces. Checking in at the indoor entertainment park is done at Kids Paradise.
Kids Paradise is a great space for children to play. Everything is in 'Beach style'. It all looks very light and summery. Which is very nice and a great contrast to the rest of Play-in, because once you leave Kids Paradise you enter the 'dark side' of Play-in.
The side where the older kids, teenagers and adults can have a great time.
In this article you can read all about Kids Paradise: Play-in Utrecht, play, climb and dump.
You can jump on the trampoline
Maybe you know Play-in Utrecht from the huge trampoline park or the Climb Walls. We also came to Play-in before for these attractions. However, there is now much more to experience.
Play-in is the indoor entertainment park for young and old and has been expanded with new attractions, making this entertainment park even more attractive as a family outing or company party.
New attractions at Play-in
What are these new attractions that will make this entertainment park suitable for young and old:
Our indoor entertainment park adventure began with Virtual Reality. And what a start it was. Really VR, it comes highly recommended! Virtual Reality Experiences for people who want to take gaming to the next level.
You are in a lifelike VR video game, you can look 360 degrees around you and move freely. There are different types of VR Experiences and games that can be played. The first game we played we had to fight Zombies.
I can imagine that it looked very strange to others. We had a great time and we were so fanatical. A top attraction!
After 2 x 15 minutes of play, we were completely finished and totally fans!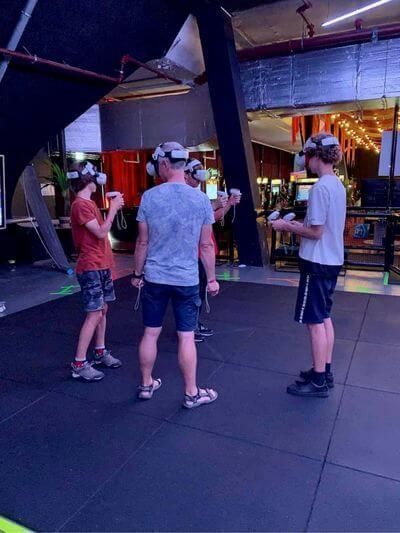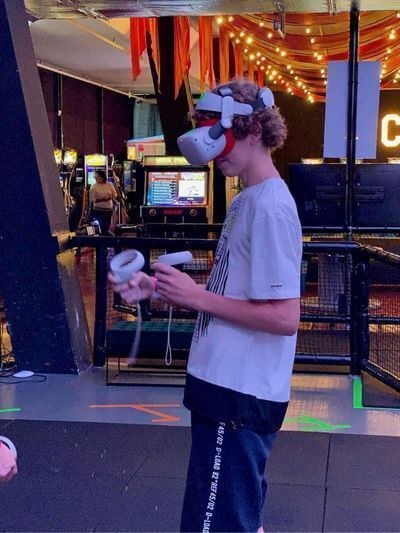 Arcade Hall
Next to the VR room you will find the Arcade Hall. Relive the 80s here. You will find next to retro arcade games, the newest Stern Pinball machines, buttonbashers, shooters, fighting games, dance games, music games, pool tables and air hockey tables.
It is fantastic to be here. The lights and decor immediately give you the Las Vegas feeling. You can go all out in a racing game.
Compete against each other on a motorcycle or play an old-fashioned pinball game. The Arcade Hall is the place for parents to keep themselves busy while the kids spend an hour jumping in the trampoline park. It's the place for young people to get together on a rainy Sunday and compete and it's the place for families to compete together in air field hockey or dance together in a dance game.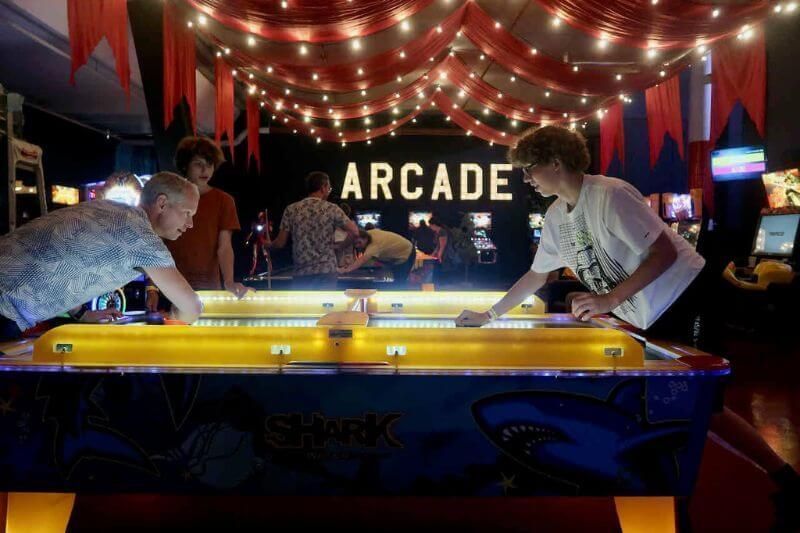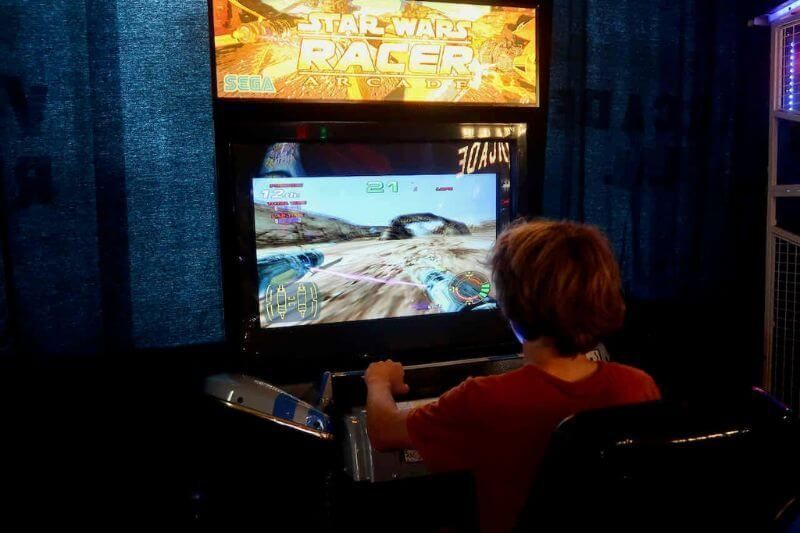 X-Cube Escaperoom
The X-Cube escaperoom is a 16 m² cube and is so popular that a second location is currently being built. Logical because this Escaperoom is great fun to do. Go on a mission with family, children during a children&#8217s party, friends or colleagues's, solve a murder, crack a bank vault or dismantle a bomb.
You can think of the X-Cube as a cross between an EscapeRoom and a video game. You have to work very well together to get a good result. We played the kidsgame, which takes 30 minutes, but there is also a game for adults which takes 60 minutes.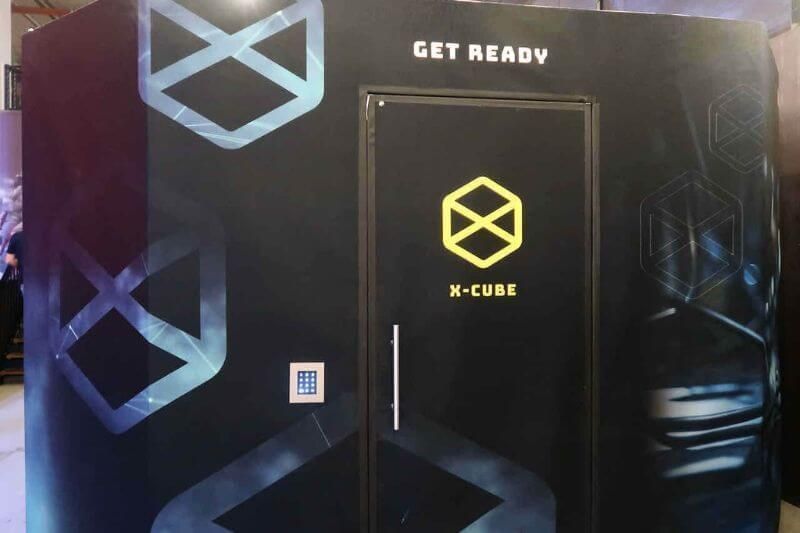 Additional Activities in this entertainment park
At play-in there are regularly extra activities. Every month there is a disco night and a DJ Evening Edition 18+ ( see the agenda for the date) where music and entertainment come together.
Where should I be
Play-in's address is:
Play-In (The Wall)
Duke's Law 173
3543 AS Utrecht
The best indoor entertainment park
For me, Play-in is definitely the indoor entertainment park for young and old. I was already enthusiastic about the different areas, but with the extra attractions they have ensured that many more people can come and enjoy the different games and activities. Whereas before it was mainly for young children and adolescents, the VR room, the Arcade Hall and the X-Cube is also clearly for adults. I can imagine that groups of young people come here for the VR. Parents will have fun in the Arcade Hall and company parties will be celebrated here.
For everyone young and old there is plenty to do.