Play with your baby
Playing with your baby, there is little that is more fun to do. Seeing how your baby discovers the world through play. The wonder on their faces when you offer them something new.
I like to stimulate my children to play with simple materials. What I do not only for the little guy but of course for the youngest. I'll give you some fun game tips to play with your baby.
Playing with your baby
Our little girl is now ten months and a lovely busy baby. Madam is always busy and crawls all over the house. To keep her busy I like to offer her other activities now and then.
Playing with your baby doesn't have to be difficult at all either so here are some game tips with guaranteed success.
Playing with non toys
Babies's, and in fact all children, like nothing better than playing with stuff that is mostly not meant to be played with. I regularly give the little girl a washing-up bowl full of non-toys. I fill it with lids, an ice cube holder, trays and more. Anything the lady can safely put in her mouth and that won't break.
She thinks this is super fun and when everything is drooled off you can just put it back in the dishes.
Playing with bottles
I had a kind of vitamin water addiction for a while. This drink always comes in little bottles and I kept a few of them. I filled the bottles separately with rice and pompoms, macaroni and glitter spoons and one with cut straws. I glued the cap on and made fun rattle bottles that way. The little girl loves to ram it, especially hitting something really hard, oops.
Bottles like these stimulate the senses and allow your child to explore and experience. Success guaranteed.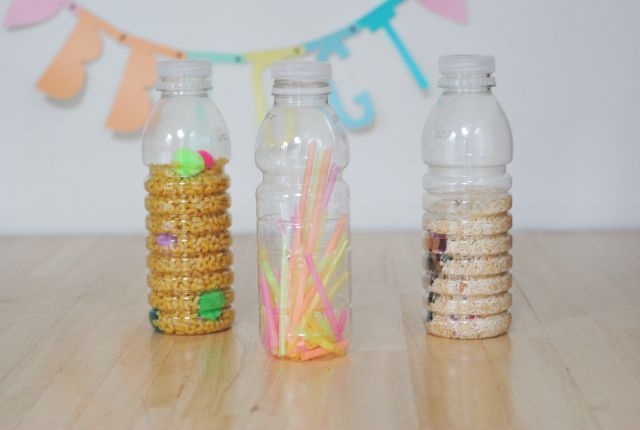 Mess free finger painting
Because a baby's world consists of discovery I had the little girl finger paint. Since a baby still puts everything in her mouth I didn't really let her mess with paint. I filled a plastic resealable bag with various colors of paint. I sealed this one with strong tape and then stuck it to the window.
You can also stick it to the floor with masking tape or washi tape. Now the little girl got to discover what happened when she pushed the bag with her hands. By the way, this is also a very fun activity for toddlers or preschoolers.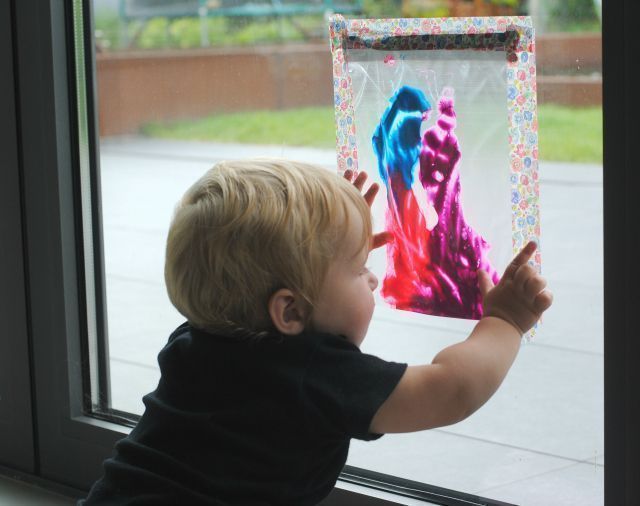 Do you like to play with your baby?? Do you have any fun game tips?
♥ ♥ ♥ Fulltime Mama uses affiliate links. This means that if you click on one of the links, we may get a small commission on it. It doesn't cost you anything extra, but it benefits us. With these proceeds we can maintain this website.
We also sometimes get paid for an article or receive a product in exchange for a blog post. Our opinion remains unchanged and honest. For more information you can read the disclaimer. ♥ ♥ ♥