On vacation with a turbo coloring page
The summer vacation has already started. The little man has thought that he would like to go to Iceland and America. That won't be for now but dreaming is always nice.
For now he will have to make do with a cool turbo coloring page of America. Then he can already to see what he would like to do and experience there.
Little man's wishes
Earlier this year, during our trip to Costa Rica, the little guy developed a fascination with volcanoes. We then had to disappoint Mr. as the volcano we visited is currently dormant. He found this so's silly that he was eager to find out where else he could view volcanoes. We showed him an old Klokhuis movie about volcanoes.
In that movie, which sir has seen 6000 times by now, the presenter is in Iceland. So you guessed it, our oldest wants to go to Iceland.
Iceland is not the only country on his travel list though. Mister has looked at some of our vacation books and there are some photo albums of America among them. He also finds this a very interesting destination.
Although I secretly think that is also because America is one of the most familiar countries in the perception of a child. But hey, who am I to help him out of the dream? I also want to go back to the country on the other side of the ocean.
So who knows.
A turbo coloring page
For now, however, these trips are not in the cards yet. We'll see how things go. To keep the mister happy we received a turbo coloring picture of America, with passport.
One happy toddler I had because he loves coloring and crafting and especially if it is about a favorite destination.
The turbo coloring page is from the Dutch design studio Makii. Among other things, they sell several turbo coloring pages with awesome designs. The coloring page we received was immediately liked and invited to color. We read the passport together and then sir went wild with the markers. I myself really enjoyed recognizing certain places in America that I have been to myself.
This way I could tell about it while coloring and it came to life for the little man.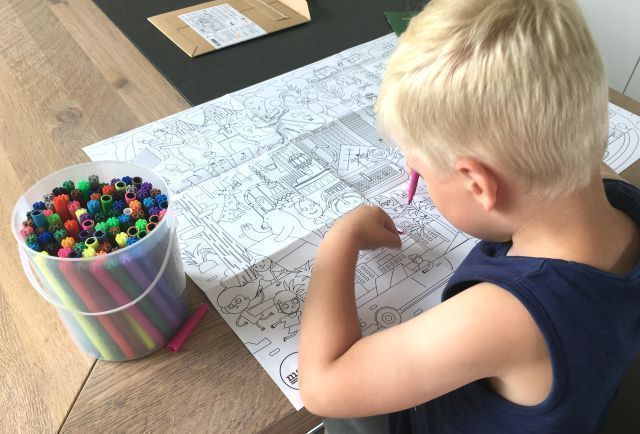 In preparation for your vacation
Whether you spend your vacation at home or you go somewhere, the coloring pages connect pretty quickly. To prepare for your sun vacation to Spain, for example, use the fun coloring sheet 'Spain'. If you stay at home in the Netherlands then you can choose to fantasize about the 'Jungle' or just make a turbo coloring page of the Netherlands.
Whatever you do, making a coloring page together is always fun.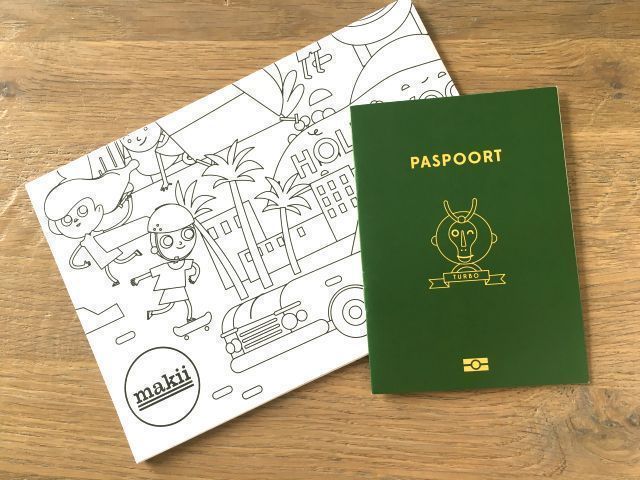 The only Makii coloring page we are still missing is of course one from Iceland. That would be really cool for the little guy.
How do you prepare your children for the vacation?
♥ ♥ ♥ ♥ Fulltime Mama uses affiliate links. This means that if you click on one of the links, we might get a small commission on it. It costs you nothing extra, but it benefits us.
With these proceeds we can maintain this website. Also, sometimes we get paid for an article or we get a product in exchange for a blog post. Our opinion remains unchanged and honest because of this. For more information you can read the disclaimer. ♥ ♥ ♥